In its edition of 28/29 January 2021, RUNDSCHAU, the Upper Austrian newspaper, published an article on Niklas Danninger, our successful apprentice.  Here is the link to the post. 
Niklas Danninger from Herzogsdorf has completed a dual apprenticeship at HAUSER company with distinction.
It was the first time HAUSER, a manufacturer of refrigerated cabinets and refrigeration technology, established in Linz and Anzing (municipality of St. Martin), offered the opportunity to the applicants to study a dual apprenticeship – Refrigeration and Electrical Engineer for plant and industrial engineering. Ten young and ambitious students made use of the possibility to obtain appropriate qualifications for boths professions in a four-year dual apprenticeship. Twenty-year-old Niklas Danninger from Herzogsdorf has actually succeeded in passing the final dual apprenticeship examinations with distinction. The dual apprenticeship takes four years to complete. The vocational school in Linz enables to study both of the apprenticeships.
Acquiring experience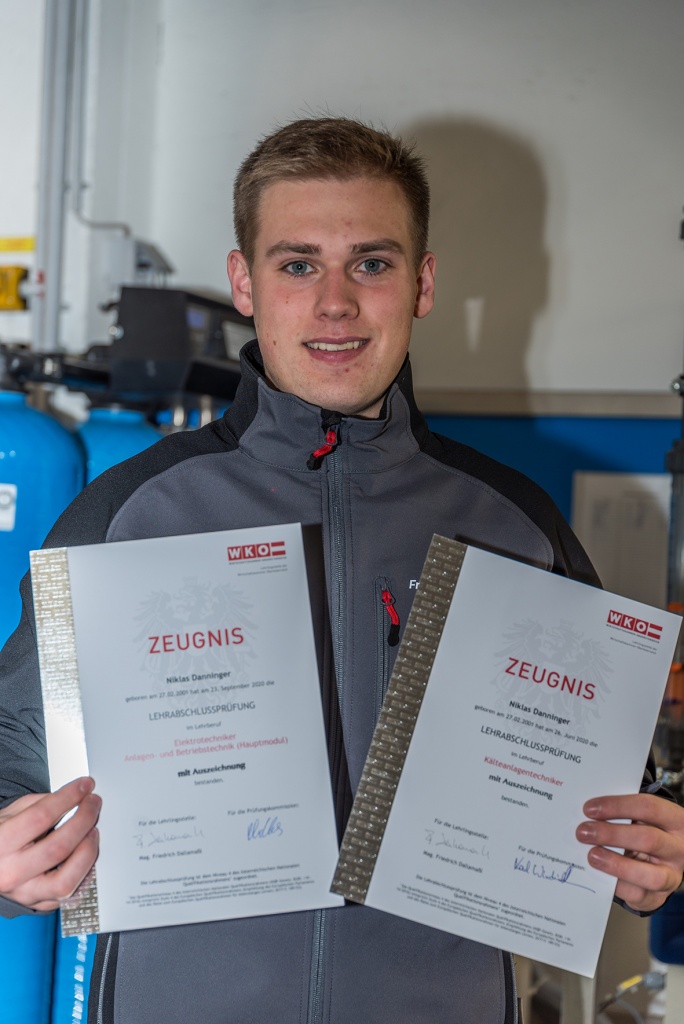 After two years at VET college for Automation Technology and Computer Business Science in Neufelden, Niklas started his career at HAUSER in St. Martin with four months in the Technical Development. Then, Service and Assembly department in Linz was awaiting him until the end of last year. Here, Niklas acquired important experience when working with the assembly team at construction sites. "Even before VET college, I was interested in technical profession and at HAUSER, I have always been concerned with refrigeration systems", says the twenty-year-old man who began his nine-month civilian service with the Red Cross at the beginning of this year. 
HAUSER offers the opportunity to receive an education in six apprenticeships in total: Refrigeration Engineer, Electrical Engineer for plant and industrial engineering, Dual Apprenticeship for Refrigeration/Electrical Engineer, Technical Designer, Industrial Clerk, Office Assistant. Last year, 17 apprentices were taken on. Unfortunately, in 2020 many competitions HAUSER had repeatedly participated in successfully, like Euroskills or Worldskills, were cancelled or postponed.
Alfred Hofer, Copyright © Regionalmedien Austria AG